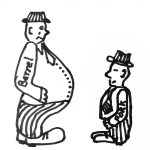 LOOK AT THIS, BARREL.
Kanye West supports POTUS Trump because POTUS Trump cares for the Black Community, because POTUS Trump has initiated the lowest unemployment rate among Blacks ever.
https://www.breitbart.com/video/2018/08/09/kanye-west-on-overcoming-fear-to-wear-maga-hat-liberals-cant-bully-me-news-cant-bully-me/
BARREL & PORK image and blog post. by Richard W. Linford
(c) Copyright 2018 Linford Corporation
All domestic and international rights reserved
Yes, BARREL, and don't forget ABORTION OF BLACKS. We need to focus and ELIMINATE IT.
IN THE U.S. ALONE, 300,000,000+ UNBORN BABIES HAVE BEEN SURGICALLY AND CHEMICALLY MURDERED, KILLED, DISMEMBERED, FLUSHED, DISSOLVED, POISONED, RIPPED APART, SENT TO LAND FILLS, SUBJECTED TO GENOCIDE, SINCE ROE v. WADE, 50,000,000+ BLACK BABIES, 50,000,000+ HISPANIC BABIES, 200,000,000+ JEWISH, NATIVE AMERICAN, ASIAN AMERICAN, CAUCASIAN BABIES KILLED.
ADOPTION NOT ABORTION.
Richard William "Wilberforce" Linford.