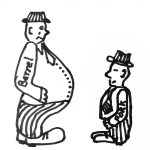 WE HONOR AND THANK POTUS TRUMP FOR HIS 314+ PROMISES KEPT AND ACCOMPLISHMENTS DURING HIS FIRST 20 MONTHS IN OFFICE. Besides continuing those positive actions, these areas require added energy and focus:
SAFETY. Build the wall yesterday. Make all come through the front door and be vetted and e-verified.
PROSPERITY. Improve disaster prevention, disaster response, and disaster recovery capabilities immediately.
PROSPERITY. Redo our infrastructure as promised and protect and augment our electrical, gas and oil, communications, and internet grids and capabilities.
FREEDOM. Relentlessly continue the fight against terrorism, indict and arrest those who have feloniously violated federal law, and tamp down any hint of domestic mobocracy and violence including efforts by anti-Americans to curtail Constitutional rights to FREEDOM OF SPEECH, FREEDOM OF RELIGION, FREEDOM TO BEAR ARMS, FREEDOM OF ASSEMBLY.
NOW KNOWN FOR HIS RELENTLESS PROMISE-KEEPING, POTUS TRUMP DOES NOT RETREAT. HE IS RELENTLESS IN KEEPING HIS PROMISES TO THE AMERICAN PEOPLE. HIS WINNING STREAK IS OVER THE TOP. HE JUST KEEPS ON WINNING.